2022/6/12




brought to you in part by



TORONTO WATER - R.C.HARRIS PLANT
The Ontario Heritage Beaux-Arts structure treats one-third of Toronto's water today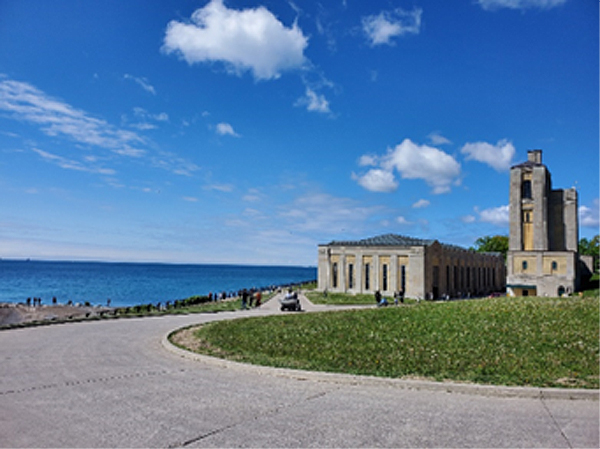 By Gillian Ward



RC Harris Water Treatment Plant in Toronto, ON is a designated Ontario Heritage site and National Historic site of the Canadian Society for Civil Engineering. Named for Toronto's Commissioner of Works of the day, Roland Caldwell Harris, the facility was designed by T. Pomphrey with consulting engineers Acres and Gore. RC Harris plant was built in the 1930s, commissioned in 1941, and stands as the largest of Toronto's water treatment facilities. With expansions supporting the growing population, RC Harris Water Treatment Plant presently supplies one-third of Toronto Water's drinking water flow, up to 950 million litres per day.

While the "Palace of Purification" is best known for its magnificent classical Beaux-Arts style and scenic placement above Lake Ontario, it surely also deserves commendation for its substance as a conventional filtration plant.

Source water is drawn through intake pipes placed 15 m deep in the lake and more than two kilometres from shore. The water is pumped up from the lake into mixing chambers, screened and pre-chlorinated, before floc and settling. Corrosion control is added to prevent heavy metals from leaching from pipes, with anthracite and sand filters accomplishing the final polish, removing any remaining particulate matter. The flow is disinfected, and fluoride is added before leaving the treatment facility through an extensive distribution network of pipes to Toronto taps.