Feature

Update 2023/11/9
UN Innovators


Bridging the Sustainability Gap Between Timber & Investors
Swiss Start-up Timber Finance Initiative educates investors on climate impact in the build sector
By Suzanne Forcese

"Around 40% of global CO2 emissions currently stem from the construction industry. Mass timber can change that. Sustainably managed forests and timber construction are the most efficient way to extract CO2 from the atmosphere and store it long-term."
The Timber Finance Initiative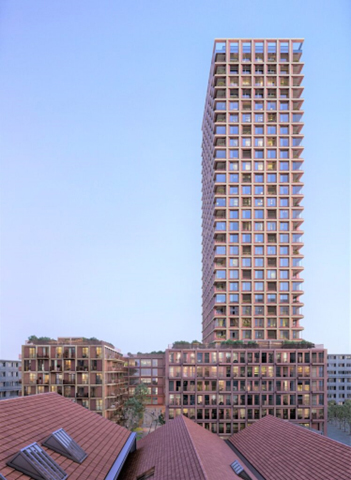 The timber construction megatrend opens new possibilities for investors and solutions`. The world's tallest timber residential building, Rocket & Tigerli, with a maximum height of 100 meters will soon rise in Winterthur, Switzerland with a projected completion date in 2027. The project, marking a milestone in innovative timber construction, uses wood as a natural replacement for concrete resulting in lower carbon emissions. The Timber Finance Initiative mobilizes impact capital for the entire forest to frame value chain and raises awareness and demand for timber investment opportunities through new research, financial products, and services.
WATERTODAY learned more from Samara Sicardi head of Communications
WT: Please give us an overview of Timber Finance. What was the impetus that motivated the founding of Timber Finance?
Sicardi: Timber Finance was founded in 2021 as a wealth manager and specialized investment advisor. Timber construction, combined with sustainably managed forests, is a scalable and cost-efficient Carbon Dioxide Removal Technology (CDR) with the potential to significantly contribute to addressing climate change.
The global mass timber construction market was valued at $857.1 million in 2021, and is projected to be worth $1.5 billion by 2031, according to a report by Allied Market Research.
Timber Finance offers capital markets new investment opportunities in the booming modern forest and timber industry. It accelerates the transformation and decarbonization of the Built Environment and Construction Sector through the development of new financial products, carbon storage methodologies,
Timber Finance raises the awareness of timber's role in construction and the potential to decarbonize portfolios with carbon removal-driven timber investments.
WT: Please describe the Team's vision.
Sicardi: The founding team of timber engineer Stefan Zöllig, corporate and impact investor Thomas Fedrizzi, and wealth manager Erik Reichmuth have a combined vision of creating future cities out of bio-based, renewable building materials; displacing carbon-intensive construction materials; and enabling institutional investors access to the decarbonization potential of timber investments.
WT: What is the mission of Timber Finance?
Sicardi: Currently, around 40% of global annual CO2 emissions stem from the construction industry, about half of it from material emissions.
Mass timber is a technologically advanced, sustainable alternative to carbon-intensive construction materials such as cement and steel and can be deployed at scale.
Timber Finance's mission is to develop and communicate timber-based financial research, to offer capital and investment opportunities and to accelerate the transformation of the built environment.
WT: Timber Forest was named as a Top Innovator in the Uplink Sustainable Forest Economy Challenge. How did you answer that call?
Sicardi: The climate potential of the forest and timber industry to achieve climate targets of institutional and net-zero investors is currently underutilized and overlooked. Our research and investment products raise awareness about the decarbonization potential of timber investments and offer investments into the entire forest-to-frame timber value chain.
We are currently developing the world's first timber carbon removal methodology under a leading ICROA climate standard and aim to monetize climate benefits (3S-carbon sequestration, carbon storage, and carbon substitution) of mass timber construction.
This methodology (once approved in 2024) will mobilize capital from the voluntary carbon market and create an important financial incentive to adopt timber construction.
A key aim of the methodology is to facilitate the transformation of under-utilized forests throughout Europe and the Americas, preventing wood from going to waste through fire and decay by using it to build timber cities instead, while simultaneously investing back into forests to rejuvenate and make them more climate resilient.
WT: According to a UN report State of Finance for Nature
"Nature is the essential algorithm for the future of humanity yet significantly underfinanced."

Please comment on that statement.
Sicardi: We couldn't agree more. If you put into perspective the immense potential nature-based solutions have in addressing climate change and compare it to the amount of finance flowing into this sector of the build environment, you will find a huge disparity and funding gap like the PWC disclosed for example in the State of Climate Tech 21.
In Switzerland, for example, about 50% of the annual timber growth in the forest is not being used and transferred into timber building year by year because the harvest is too expansive, or the industry is technically not ready.
By combining nature's global carbon sequestration ability with modern timber construction, we can contribute to the decarbonization of the construction sector and mobilize capital for the transformation and rejuvenation of forests.
More than ever our European forests today are under risk of stress from climate change and much of the carbon stored today is at risk of being released through fires, decay, and other calamities such as bark beetle.
Utilizing forests creates an opportunity to work with nature, address biodiversity, improve the climate resilience of forests, and ensure this unique resource is available for generations to come.
Driven by technological advancement, regulatory change, and societal changes, the forest and timber industry is at the beginning of a significant growth cycle.
Timber investments are sustainable, low-carbon investments that offer diversification and attractive risk-return profiles.
WT: Timber and Sustainability is a topic of international debate. On your website you have posted an article from Built by Nature that busts some common myths about mass timber construction.

What is the essence of sustainable design?
Sicardi: The essence of truly sustainable design means creating flexible spaces that can be adapted for multiple uses and relying on renewable materials that can be reclaimed and reused at the end of a building lifecycle.
WT: Why is timber a carbon solution? How have disruptive technologies changed the traditional use of timber?
Sicardi: Timber elements used in construction are a carbon removal solution as each cubic meter of wood inherently stores the equivalent of 1 ton of CO2. Through technological innovation and the advancement of engineered wood products such as CLT (cross-laminated timber) and Glulam (glue laminated timber), entirely new cases have been created.
Timber in Europe is no longer used only to build single-family homes and mountain chalets, it is now also being used to construct bridges, elevator shafts, basements, and even skyscrapers, providing a long-term carbon sink.
WT: Tell us about the Carbon Capture and Storage Index.
Sicardi: The is an equity index that tracks the climate-positive forest and timber industry in Europe and North America. The index aims to identify the leading companies that create a positive climate impact through the production of engineered wood products and the long-term storage of CO2 in timber buildings.
Timber investments are a low-carbon alternative to traditional investments, can accommodate multiple assets classes, and offer an attractive long-term risk-reward profile.
WT: What is the Timber Finance Tracker. Please describe your investment strategy.
Sicardi: The tracker certificate invests in 21 leading companies from the European and North American timber industry and focuses specifically on sustainable forest management and the long-term storage of CO2 in durable wood products for the built environment.
The investment strategy relies on the investment universe from the Timber Finance Carbon Capture and Storage Index. Companies eligible for inclusion in the tracker must come from 12 predefined industry sectors and are reviewed by an investment committee for their thematic purity.
Companies can be included via a quantitative selection process in which a minimum of 50% of their revenues are generated through core timber activities or via a qualitative selection process. The qualitative process includes companies that do not meet the revenue threshold but can demonstrate a dedicated timber strategy, significant one-year growth in a core timber segment or contribute to the development of the mass timber market for the built environment.
Companies that procure timber must demonstrate a minimum of 60% of their lumber is sourced according to certifications such as FSC Controlled Wood or that a minimum of 80% the company's facilities have a Chain-of-Custody Certification from Forest Stewardship Council (FSC) or Sustainable Forestry Initiative (SFI).
These measures are essential to ensure sustainable forest management practices are an inherent part of the supply chain and that illegally sourced timber is excluded. Furthermore, companies that operate in ecologically sensitive areas (High-Value Conservation Forests) or regions with weak forest protection legislation are also excluded. A negative screening for ESG/Environmental violations is also performed on the included companies.
WT: Moving forward...what's next?
Sicardi: Timber Finance recently received its status as a fully licensed Swiss wealth manager and investment adviser. We are going on to develop further customized financial products for different asset classes to advise institutional clients looking for traditional wealth management services with a focus on sustainability and carbon finance within the built environment and nature-based solutions.
Together with our partners, we are evaluating launching further listed equity investment products and adding new asset classes to our offering. Specifically, a timber private equity fund and a timber carbon removal fund are currently being evaluated.
The journey has just begun, and we are looking forward to growing our product offering and investor network that is investing on behalf of future generations.