Features

Update 2022/4/7
Sugaring




brought to you in part by




The RO Bucket - From maple syrup to water

By Suzanne Forcese



A small-scale, portable reverse osmosis system, is cutting costs, energy, and time for sugarmakers in Canada, The U.S. and Europe.

WATERTODAY spoke with Carl Nylen of Syracuse, New York, about the Maple and Birch Sap RO Systems that he and his brother David Nylen have created. A variety of kits is allowing the hobbyist sugarer to double syrup production without adding boiling time. The added feature of the system is the production of pure water.

Carl, a high school chemistry teacher with a master's degree in separations chemistry, told us, "It was never my intent to be in this business or even sell my kits. It was just something that evolved out of a science club project with my students."

The sugaring club project began as "an experiment with the maple trees on campus. The boiling aspect of syrup production was taking forever so I started thinking of ways to make this a feasible effort that would fit into the confines of the school day. We did not have the budget for professional equipment, so I drew from my chemistry knowledge in reverse osmosis.

"We put together the components of a relatively low-cost efficient system for a couple of units. After the project was completed, I sold the units to a couple of friends but then started getting requests from friends of friends and it took off from there using the money from sales to make more units."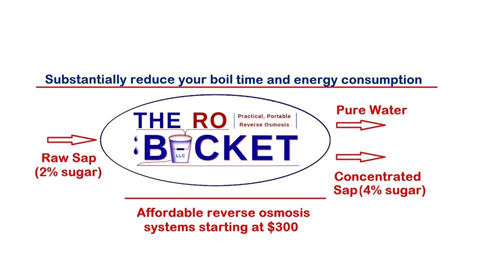 Reverse Osmosis or hyper-filtration is the process of filtering maple sap at high pressure through a semi-permeable filter membrane that traps the sugar in the sap into a concentrate on one side and allows the residual permeate (water) to flow out on the other side. RO allows 7580% of the water to be removed from the sap before it is introduced into the evaporator, saving energy and time. Photo Courtesy Carl Nylen
The system was catching on because it was simple, portable and highly effective at drawing pure water out of sap to raise the sugar concentration.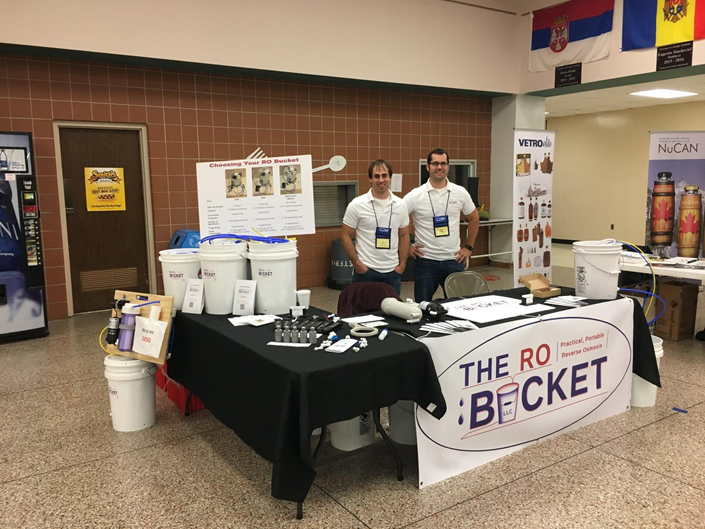 Carl Nylen (left) combined forces with his brother David Nylen (right), a school administrator, to found the business. Shown here at a trade show, Carl adds "we have to fit in our business outside of school hours. Life is busy!" Photo courtesy Carl Nylen
The uniqueness of the RO Bucket system that puts Team Nylen in the lead is the brothers' desire to fulfill a void for small-scale producers , using the highest quality materials while being cost-effective.
"At the core of our philosophy is a minimalist approach, with a focus on saving our customers time and money above all else. Our systems are simple to use, without unnecessary components and they have an extremely low likelihood of leakage or failure."
As Carl explains, there are certain features in all the kits that are exclusive to The RO Bucket such as the double O-ring seal, the high-quality thick plastic components, and pre-installed RO membranes that are maple specific with a patented anti-fouling membrane polymer.
Aside from the chemistry of the systems, there is also a unique chemistry of the brother-created business that draws on their experience as educators.
Realizing that sugaring requires a learning curve, The RO Bucket has a series of instructional videos and documents to fill that need.
"We are always available to chat with our customers when the need arises. We've met a lot of great people that way. It's one of the fun aspects of this endeavor and we love sharing our expertise."
With the number of customers growing in Canada, the U.S. and Europe (where birch sap is predominant) the Nylens are also learning from their clientele.
"One of our customers is making maple cotton candy! It has a very intense maple taste with nutritional benefits."
Both birch and maple syrup are becoming more widely recognized for their antioxidant and high mineral content.
Another unique feature is water production.
"Our customers do water tests and have confirmed that the system removes minerals and contaminants. The water can then be used to clean the system."
Carl adds however that it would not be wise to drink the water. "Reverse osmosis removes all the minerals. You would need to use a re-mineralizer as drinking RO water leaches minerals and nutrients from the body. It's something to think about though in the event of water contamination or water scarcity. And it's certainly an easy thing to install a re-mineralizer or add minerals to the water."
As for the business, Carl says for now the plan is to focus on yearly improvements, although the sweet dream is early retirement from teaching to concentrate on a business with more spin-offs.
"Every year we work on expanding and increasing the capacity of our units. We enjoy helping people and introducing them to a hobby that is of great benefit. We want to continue making a product that is beneficial from start to finish. We want to get people out into Nature and actually have a tangible experience with Nature that is much more than a walk in the woods.