Feature

Update 2023/6/26
UN Innovators




Growing Mushrooms In Arid Climates

UN Top Innovator Solution: UAE's first ag-tech company start-up

Below Farm

follows waste-to-resource principles


By Suzanne Forcese



"Fungi are nature's decomposers, a valuable tool in the circular economy."" -- Bronte Weir, Co-Founder of Below Farm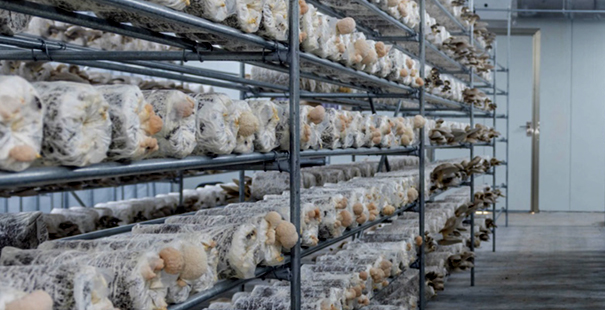 Below Farm offers mycelium and mushroom vertical cultivation generated from upcycled agricultural
and food waste biomass consuming minimal water and eliminating the need for arable land
Interview with Bronte Weir, Co-Founder of Below Farm
WT: Recently Below Farm was spotlighted by the UN.
Congratulations on being showcased and answering the Uplink challenge. Please introduce yourself to our viewers and give us a brief overview of your start-up.
Weir: Below Farm is a UAE-based farm, growing mushrooms in the desert all year round using local materials. At our farm in Abu Dhabi, we upcycle the waste palm leaves from date trees and convert them into nutritious food, delivering on the UAE's strategic ambitions of sustainable agriculture, food security and the circular economy.
The name Below alludes to the fact that in the fungi kingdom, mushrooms are just the fruit. The real "magic" happens underground, in the vast root network known as mycelium. The name was inspired by the first 3 letters of the founders' first names: B, L & W (Bronte, Liliana, Wojciech).
WT: What was the journey that brought the three founders together? What was the impetus that inspired you to answer the food security call in arid conditions?
Weir: Our mission is to establish the Middle East as a center of excellence for mushroom cultivation and harnessing the power of fungi as nature's tool in the circular economy to produce nutritious food.
The inspiration for this journey came from two of our co-founders' home country in Poland, where mushrooms are part of the heritage. The husband-and-wife duo, Liliana and Wojciech Slowinski took this inspiration into the incubator for ideas during the pandemic. Back in 2020, I had been seeking a change away from corporate life in the consumer goods industry, when my colleague Liliana approached me on the concept of a mushroom farm in the desert. We saw the strategic focus of the country on food security and that mushrooms were a very intriguing white space.
WT: Why did you choose mushrooms?
Weir: When you consider that fungi are their own kingdom – a different biology to other crops – the unexplored potential is massive. Mushroom cultivation and mycelium innovation are very heavily weighted in the US and Europe, but almost non-existent in the Middle East, so it presented an interesting opportunity for our founding team.
What I find so interesting about mushrooms is that the fungi kingdom is more similar biologically to the animal kingdom than the plant kingdom. Like animals, fungi use enzymes to digest their food. The biochemicals that dictate their functions are similar. The difference is that animals digest internally while fungi secrete their enzymes outside the organism to digest what is around them.
WT: How does Below Farm grow mushrooms? What makes your system revolutionary? What are the benefits of your system? Please comment on water use, circularity, sustainability, etc.
Weir: The Middle East is a nascent industry when it comes to mushroom farming, and as such most farms in the region only grow the mushrooms from a substrate that is imported from Europe or China. However, this setup has numerous challenges that led us to localize the full mushroom cultivation value chain.
We set up our own mycelium lab where we take fungi culture samples and propagate new generations of cultures and spawn. The traditional materials that mushrooms are commercially grown on (straw and wood) are not easily available in the desert climates of the Middle East, so we had to innovate to identify local materials.
Since agriculture in the region is palm dates, with the rest of the tree as a byproduct with very few uses, the palm leaves seemed like a logical choice. Our substrate facility, the first of its kind in the country, is where we process the date palm into a mushroom substrate, sterilize, inoculate, and incubate it
When it comes to growing, we employ controlled environment vertical farming techniques. We control temperature, humidity, gas exchange and light levels. We have, so far, upcycled over 250 Tonnes of waste date palm into a healthy source of non-animal-based protein, essential amino acids, and Vitamin D.
We produce without pesticides or fertilizers, via a low-water impact crop.
Mushrooms require 10% the amount of water that tomatoes do for instance. When you consider that we are in a region where all water is desalinated at an extremely high energy cost, mushroom cultivation makes a significant impact on water conservation and costs.
WT: As a start-up, what is our vision for the next stage of development?
Weir: We are already commercializing produce and products from our farm, and this year's focus is on stabilizing our existing operations. Looking ahead to next year, we are seeking growth capital to scale our existing operations and start to look towards international expansion, focusing on other markets in the Middle East initially.
WT: You also have starter kits for people to set up their own vertical farms at home. Many of our viewers in Canada, the United States and Mexico face water shortage challenges and the accompanying issues with food sustainability. Any plans to expand worldwide?
Weir: Yes, we have kits available for online orders. People can even have a small mushroom farm growing in their living rooms. The kits are ideal for small spaces. At present, we are only shipping within the UAE but certainly, the hope is as we expand our company our technology can reach all arid countries in the world.