Features

Update 2023/7/17
Water Tech








Pioneering a New Era of Sustainable Waste Management
Duke University Spin-off 374Water creates energy, water, and minerals from recalcitrant wastes


By Suzanne Forcese

"The current state of waste management relies on technologies that are a century old. It is no surprise that they are unable to tackle our current challenges. Concerns (like PFAS) did not exist when technology was invented. We now can decentralize waste management, transform waste into something useful and do all this while also eliminating the hardest-to-treat pollutants." -- Sudhakar Viswanathan, Vice President 374Water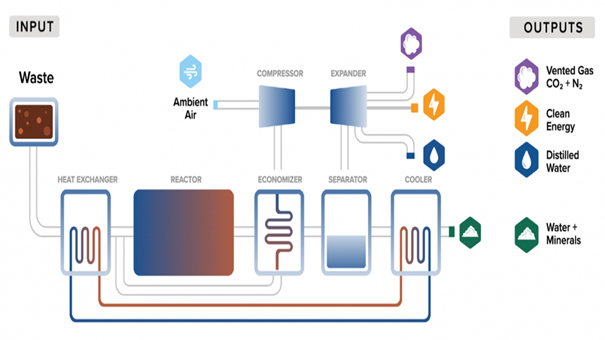 AirSCWO™ is a physical-thermal process powered by water above its critical point (374°C and 221 bar) and air that yields a highly effective oxidation reaction eliminating organic compounds from a wide range of waste feedstocks, including PFAS. The reaction generates energy, clean water, and minerals that can be used as fertilizer
Interview with Sudhakar (Sunny) Viswanathan, Vice President 374Water
WT: Please introduce yourself to our viewers and give us an overview of 374Water.
Viswanathan: 374Water is a global cleantech and social impact company based in Durham, North Carolina. As Vice President, I am responsible for the commercialization of our AirSCWO process .
Our process can convert waste into clean water and energy, and most critically, eliminate recalcitrant wastes like PFA in the process without creating any undesired products.
WT: Please describe the journey to start-up. What is the vision and mission of the founders?
Viswanathan: 374Water is a start-up company launched in 2018 by Marc Deshusses, professor of civil and environmental engineering at Duke University and Kobe Nager, process engineer. Duke developed the third-generation Supercritical Water Oxidation (SCWO) process called AirSCWO™, an emerging technology of choice for recalcitrant waste destruction, including PFAS.
Our vision is to create a world without waste, and our mission is to preserve a clean and healthy environment that sustains life.
WT: What is Supercritical Water Oxidation?
Viswanathan: Supercritical Water Oxidation or SCWO for short, is a physical-thermal process that relies on the unique reactivity and transport properties of water above its critical point of 374°C and 218 atm (705°F and 3200PSI). Under these conditions, organics are fully soluble in supercritical water. With the addition of oxygen, all organics, including PFAS, rapidly and completely oxidized to form carbon dioxide, clean water, and inorganic salts.
WT: Please describe the technology. What types of waste do you convert to clean water? How are PFAS eliminated? What are the by-products of this process? Are the by-products re-purposed?
Viswanathan: AirSCWO™ is a waste-agnostic process. In other words, the process is indiscriminate of the type of organic waste being processed and can eliminate recalcitrant wastes like PFAS from spent GAC, spent IEX, RO reject, diluted AFFF (Fire Fighting Foams), landfill leachate, groundwater, wastewater sludges and biosolids, and rinsates from decontamination processes.
PFAS is just another organic waste, and since our process is indiscriminate in the type of waste, treating PFAS to us is the same as treating any other organic waste.
AirSCWO™ is able to receive and process a variety of organic waste all at once or individually. The byproducts are just what we described earlier, clean water, carbon dioxide, inorganic salts or minerals, and energy.
Depending on the type of waste processed, the inorganic salts or mineral fraction will change, and nutrients like Phosphorus in municipal waste or metals, and catalysts from industrial waste can be recovered and reused.
WT: Please explain how your system is sustainable and circular.
Viswanathan: Oxidation is a highly exothermic process. In other words, energy is released when we break complex compounds into simpler ones. This energy is captured as sensible heat within the process and reused to offset external energy inputs.
The process is 100% thermal energy self-sufficient at all scales.
Also, we have a proprietary energy recovery system that captures the pressure within the reactor to generate meter-able electricity, which again is used within the process to offset electricity from the grid.
AirSCWO™ is unique and highly effective as an energy-self-sufficient process that simultaneously destroys the more recalcitrant wastes like PFAS.
WT: Tell us about the 374 units. Are they plug-and-play? How are they added to an existing facility? Are there any pre-processing/post-processing procedures that are required?
Viswanathan: Our units are the true plug-and-play systems. All AirSCWO™ systems are compact, modular, prefabricated, and skidded for easy installation into new or existing buildings. They require minimal civil, mechanical, or electrical work.
image
At the smallest and mid-scale, the units are also containerized, for outdoor installation.
WT: Are there units currently deployed?
Viswanathan: We have commercialized and are ready to deploy the smallest of the three sizes into real-world applications.
Our first system will be heading to California for use at a municipal wastewater resource recovery facility.
We are halfway through the design and construction of the middle-sized unit, which will likely be an East Coast installation.
We are currently looking for a key partner to work on the largest systems.
WT: Currently what stage of commercialization are you at?
Viswanathan: We are currently offering AirSCWO 6/7 units that can treat between 6 and 7 wet tons of waste per day.
We are designing the AirSCWO 30 units, capable of treating 30 to 40 wet tons per day.
The largest size is AirSCWO 200, which we are not offering at this time. The expectation is they will be available in late 2024 or early 2025.
Our cautious progression approach allows us to learn and improve at each stage of development. Technology companies often rush to achieve a greater market share, but failure usually results when the scale-up process is eliminated.
Our approach, which I call the crawl, walk, run – is deliberate to ensure success.
WT: What's next?
Viswanathan: Our vision and mission have not changed. We will work diligently to rid the world of waste and create a truly circular economy, not just here in the US but across the globe!
Our process reduces risks and liability for end users while also reducing the cost of treatment and the effort it takes to tackle these challenges.
Political will and investments will make the paradigm shift possible.