Features

Update 2023/6/7
Space Food




Winner of Water Treatment Tech Challenge Aspires to Treat
Oil Sands Process Water Safely

Ontario start-up JEOSAL will work on treating contaminants of concern in collaboration with U of A
By Suzanne Forcese
"At the University of Alberta, we are working on multidisciplinary research to establish the basis of new wastewater treatment and reclamation approaches that depend on sustainable sources of materials and/or energy. We're doing this by combining different technologies and developing new materials that will help achieve sustainable wastewater treatment systems." -- Dr. Mohamed Gamal El-Din, Professor of Environmental Engineering, U of A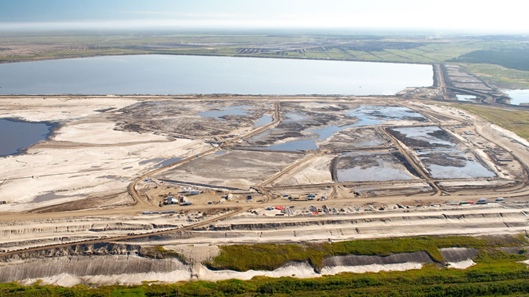 No treated Oil Sands Process Water (OSPW) has been released back to the Athabasca River to date. Inventories of OSPW are building up. And there are increases in salination due to increased recycling rates and reduced water use intensity. Further delays in releasing treated OSPW are projected to postpone the reclamation of mine sites to ecologically functional states for decades.

Jeosal Materials Research Corporation has a promising solution.
Interview with Osayuki Osazuwa, CEO & Co-Founder Jeosal
WT: Osayuki, please introduce yourself to our viewers and give us an overview of JEOSAL. What was the journey that brought the team together?
Osazuwa: I am co-founder and CEO at Jeosal Materials Research Corporation. Jeosal was founded in December 2018 in response to the Canadian Plastics Innovation Challenge (Environment and Climate Change Canada) which focused on the development of environmentally sustainable and economically viable solutions for the recycling and reuse of fibre-reinforced plastic composite waste.
My co-founder and COO, Alice Senso, and I have advanced degrees and experiences in engineering and business which have been instrumental in achieving expected outcomes.
Originally, we came together as a research group looking for new technology to reduce reliance on rare metals used for electrical conductivity. This led to some interesting discoveries in the world of polymers and how they can be harnessed to replace traditional materials. Polymers are also very useful in nanoscale technology, colloids and interfaces – this has opened a whole new world for our team.
Our motivation for embarking on this venture is to create an impact by delivering a truly circular economy in the composite materials space.
WT: And you won that Challenge in 2019! Before we talk about your most recent award launched by Foresight Canada together with COSIA and Dr. Gamal-Eldin at the University of Alberta, please tell us what Jeosal has been focused on since 2019.
Osazuwa: The Canadian Plastics Innovation Challenge that Jeosal participated in was specifically on recycling fibreglass hulls from abandoned and derelict marine vessels with funding from Transport Canada. Jeosal successfully completed the proof-of-concept and prototype development phases of the project ending in the first quarter of 2022.
This challenge provided the resources to advance our recycling technology and development of a unique solution for the waste problem in the composite industry.
One of the expected outcomes was to explore new applications and opportunities where these materials have never been used before. Specifically, in our recycling solutions for the 10,000s of watercraft that end up in Canadian landfills and waterways every year, we have discovered methods to recycle the raw materials and find uses for them in sporting goods, electronics and automotive sectors.
Jeosal is working on the extraction of glass fibres from various composite waste streams including decommissioned wind turbine blades, construction materials, fibreglass boat hulls, and automotive composite panels.
The recycled products will target applications such as reuse for new composite products or fibreglass production. We are currently collaborating with partners in Europe and North America.
WT: And now your research is taking you into the oil sands. Foresight Canada, a cleantech accelerator partnered with Canada's Oil Sands Innovation Alliance (COSIA) and the University of Alberta launching a challenge to develop new innovative low-energy water treatment technologies. Recently Jeosal was named the winner of the Low Energy Water Treatment Tech Challenge.
According to John Brogly, Director, of Water, COSIA, "Jeosal presents a unique opportunity to repurpose waste materials into an effective water treatment technology for the oil sands." Congratulations!
Osazuwa: We are delighted to be the winner. Jeosal is confident that our recycling technology and repurposing of recycled fibres to create advanced materials for water treatment will assist companies in the COSIA collaboration in providing more efficient, reusable, affordable water treatment solutions, as well as diverting plastic composite waste from landfills.
WT: What can you tell us about the research to date?
Osazuwa: Jeosal is producing materials for the removal of the contaminant of concern from oil sands process water. We have previously demonstrated the removal efficiency of our solution for a model contaminant in water.
This work was accomplished in collaboration with GreenCentre Canada.
Once this phase is completed, the materials will be sent to Dr. Gamel El Din's laboratory at the U of A for testing on OSPW samples.
WT: What is the vision moving forward?
Osazuwa: We seek to continue developing novel use cases for recycled products from fibre composite waste. New applications include the development of adsorbent materials for gas separation, air purification, water and wastewater treatment, advanced battery systems, and catalyst carriers used in chemical engineering.
The recognition we are gaining with this most recent award is what drives us to continue our research and develop modern solutions to problems we, as a society, face together.