Features

Update 2023/7/17
Water Tech








Waterproofing The Planet
UN Top Innovator Desolenator aims to improve the water-food-energy nexus by harnessing the sun's energy with zero harm to the planet


By Suzanne Forcese

"By harvesting the abundant resources of sea and sun, we produce high-quality water to address the water-food-energy nexus. We are taking the next step in the future of truly sustainable agriculture." -- Desolenator in partnership withSilal &ADQ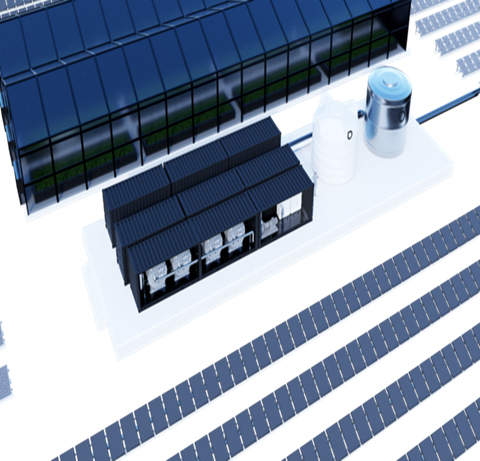 Rendered image showing Desolenator's solar thermal desalination solution integrated with greenhouses. Desolenator's solar desalination can convert brackish water, seawater or contaminated water into freshwater using only solar energy, reducing reliance on traditional water sources and drastically cutting CO2 emissions. Integration with Zero Liquid Discharge also means that no harmful waste brine goes back into the environment

Interview with Nick Heineman Communications Specialist, Desolenator

WT: Desolenator was recognized as one of the 14 Global Top Innovators at the UN Water Conference in 2023. What has this recognition meant for your start-up and how has the Conference strengthened your collaborations, vision, and mission?

Heineman: The UN Water Conference was an incredible week which convened many people across the industry and from all corners of the planet. For us, being invited emphasizes an increasing sense of positivity and a safer place for pioneers, whether political or entrepreneurs, to emerge and connect.

For us, it meant increased investment and more projects in the pipeline, including partnerships in East Africa. We are more dedicated than ever to designing a sustainable water (+energy, food) future for our planet.

WT: Since WaterToday's last conversation with Desolenator, a lot has happened.

Desolenator has received several awards.

Heineman: We have been fortunate to have been recognized by the Supernova Challenge at GITEX, WEX Global, Tech4Islands and MESIA Project of the Year. We have an incredible team that is led by our mission and proud to see that this drive is being recognized on a global scale.

WT: It looks like 2023 is shaping up to be a great year for Desolenator. What opportunities allowed you to represent your mission on a global scale? In all these opportunities, what is your message?

Heineman: It has been a monumental year so far! A major milestone has been the announcement of a groundbreaking project with Silal and ADQ, building the world's first solar desalination plant for agriculture,

harnessing abundant sea and sun to produce water for greenhouses in the desert.

Besides the UN Water Conference, we have taken the stage at the World Future Energy Summit in Abu Dhabi, the Nation-building conference in Bangkok and others. Another highlight was being invited to Arizona by the Arizona Commerce Water Authority, where we have great momentum for sustainable water provisioning.

COP 28, happening at the end of this year, will be a great opportunity to showcase our work and advocate the role of water and sustainable desalination in climate change.

Our message is this: Desalination of sea and brackish water is one of the fastest-growing areas of water provisioning. However, it is unsustainable and expensive.

Desolenator aims to transform this industry by harnessing four times more solar energy than normal PV panels, with a low OPEX system that does not use any harmful chemicals and offers the first fully circular Zero Liquid Discharge System – a new standard in ocean safe, circular desalination. This means no waste brine goes back into our oceans.

Lastly, if we can solve water, and solve energy, we can solve our food supply forming the basis of a thriving civilization.

WT: Can you elaborate on that water-food-energy-nexus?

Heineman: Water plays an integral role in agriculture (irrigation) and energy production (cooling in thermal power plants, hydropower). Desalination, generating freshwater from the sea is also incredibly energy intensive and reliant on fossil fuels.

Agriculture as a critical source of food is energy-intensive, requiring machinery, fertilizers, and transport.

Energy production is not only dependent on water but is also essential for extracting, treating, and distributing water.

The water-food-energy nexus, therefore, really means the interdependence and complex interactions between these three critical resources. A disruption in one can have a cascading effect on the others.

Globally agriculture accounts for 70% of freshwater withdrawals. Historically arid regions have mostly relied on imports to ensure food security. In these areas, desalination is an essential technology.

As we look forward to the future sustainable agriculture will be central to the water-food-energy nexus.

Our pilot project in partnership with SilalUAE will launch the world's first fully solar thermal agricultural desalination plant to provide fresh water for irrigation, and clean energy for greenhouses with zero emissions.

WT: Moving forward. What's next?

Heineman: Desolenator is scaling up operations globally and raising a Series A investment round this year. We are planning large-scale projects across Kenya, Australia, Botswana and the United States.

The water-food-energy nexus is a complex and interconnected web. Unravelling its future requires a multi-faceted approach that combines technological innovation, policy reform, and international collaboration. Through these measures, we can work towards a future where our essential resources are managed sustainably for the well-being of both our planet and its inhabitants.