Features

Update 2023/8/29
Carbon capture




brought to you in part by




Water & Chemical-Free Textile Dyeing Debuts in Canada

Quebec-based Regent Textile Machinery aims to expand Top Innovator DyeCoo waterless technology in the Canadian market
By Suzanne Forcese
"This new green technology is part of the investment of this research center for the textile and geosynthetic industry to demonstrate manufacturing solutions with a low environmental impact. Several projects are already aligned using this waterless process for dyeing, finishing, and potentially other applications. Considering its high potential for a greener chemistry in the textile manufacturing, we are excited to acquire this equipment.""-- Dr. Ahmad Ibrahim, Ecotextile Chair, of textile R&D
CTT Group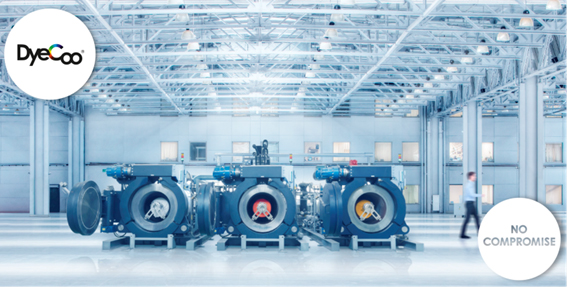 Water & Chemical Free Textile Dyeing Debuts in Canada

Quebec based Regent Textile Machinery aims to expand Top Innovator DyeCoo waterless technology in the Canadian market

The new DyeOx Micro Lab, a sample dyeing machine arrives in Quebec's Applied Research and Product Development CTT Group. DyeCoo Textile Systems B.V., a Dutch start-up that successfully developed and commercialized supercritical CO2 fabric and yarn dyeing and offers CO2 solutions to bulk production by eliminating the use of water and chemicals in the dyeing process.
Interview with Patrick Vinson, Managing Director, Regent Textile Machinery
WT: DyeCoo, a Dutch Company, has been recognized by the WEF and Accenture Strategy as a Top Innovator in the Circular Economy.
Please introduce yourself to our viewers, giving us a background into how you became involved with DyeCoo.
Vinson: Regent Textile Machinery is a second-generation family business that began in 1971. We are a machinery distributor and sales agency dedicated to serving the North American textile manufacturing industry. Our focus is on technological solutions from European manufacturers to different market sectors such as fabric formation, dyeing, printing, finishing and quality control equipment.
I joined the company in 1991 after obtaining a textile chemistry certificate in Saint- Hyacinthe, Quebec.
I learned of DyeCoo and SCF-CO2 dyeing in 2017. I have always had an interest in innovative technologies and since the industry was trying to tackle some of the sustainability challenges associated with considerable water and wastewater from dyeing and finishing, Dyecoo and Regent decided to join forces and promote the DyeCoo technology in the North American market in 2020.
A large part of our activities revolves around recent technologies that bring innovation and sustainability to our market.
Developments in fashion and performance fabric processing technologies and automation are often accomplished in concert with machinery manufacturers in Europe.
We want to help our customers reach their goals and improve on existing manufacturing practices through automation and innovation.
WT: Congratulations on bringing the first DyeCoo System to Canada.
Vinson: We just closed a sale with a textile technology centre in Quebec that will be implementing the DyeOx micro lab in their R & D pilots.
On an industrial scale, the DyeOx uses zero water, reclaimed Carbon Dioxide as dye carrier and is a closed loop system. 95% of CO2 is recycled after each batch. It uses pure dyes with no additives. There is no wastewater.
WT: Conventional textile dyeing and finishing of the raw fiber is a thirsty business. The fashion industry uses enough water to quench the thirst of 110 million people for an entire year. Can you tell us more about the sustainability of the DyeCoo process?
Vinson: Sustainability is also a goal we strive to meet by cost-cutting measures. By eliminating the use of water and chemicals, the DyeCoo System also reduces wastewater treatment costs associated with energy costs like steam.
WT: The textile industry produces massive amounts of toxic waste. It is estimated that more than 8,000 chemicals are used to make the 400 billion square meters of fabric sold annually around the world.
How does the DyeCoo system disrupt that process?
Vinson: Dyecoo is the first company to successfully install on an industrial scale a water and chemical free dyeing machine using CO2 super critical fluid. Plants in Asia (Viet Nam, Thailand, and Taiwan) have integrated DyeCoo's dyeing into their supply chain as a recognized alternative to help meet targets for carbon reduction without any compromise on cost or quality.
DyeCoo's waterless dyeing technology, operated by CleanDye's factory in Vietnam, generated 58 % lower greenhouse gas emissions than conventional dyeing ventures.
WT: How does the technology work?
Vinson: First, let me explain what SCF is. Super critical fluid (SCF) is defined as a material that can be either a liquid or gas, used in a state above the critical temperature and critical pressure where gases and liquids can coexist.
CO2 is part of the circular economy and a byproduct that is readily available and can be identical in quality and purity anywhere around the world.
The same cannot be said for water and that poses a serious challenge for many dyehouses since water quality, hard or soft, well or city can vary affecting formulations and outcomes.
CO2 provides stability and repeatability...therefore there is less waste.
Our process control enables us to recirculate in a closed loop SCF-CO2 with pure dyes at high pressure to color packages of yarn or beams of fabrics with exceptional fastness properties and brilliant colors.
SCF is an excellent stabilizing agent for the chromophores used on polyester and acetate. Because of this we completely avoid the use of water as a poor carrier of dyes that require processing chemicals to help in the exhaustion process.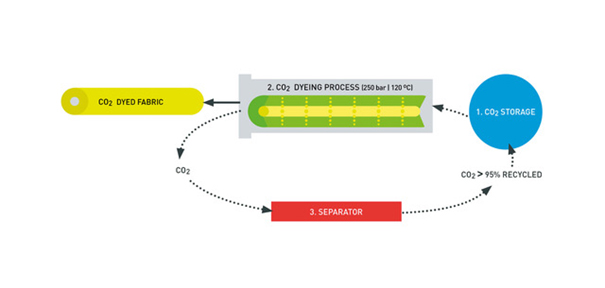 Steps include pressurization to 250 bar and 120 degrees Celsius bath or SCF recirculation for dye dissolving and exhaust on the material; followed by a vessel depressurization.
The processing time is similar to aqueous dyeing.
Once the dye cycle is complete, the machine reclaims and refilters 95% of the liquid CO2 and transfers it back to the intermediary storage tank to be reused in a subsequent dye cycle.
The goods enter and exit the vessels dry. Fabrics are then ready for the finishing phase. Yarns for the precision winding step require no drying.
This process can eliminate up to 40 liters (about 10.57 gal) of water per kg from the dyeing, rinsing and neutralizing steps.
WT: Because there is no water used there must be a certain amount of geographical freedom – any comments?
Vinson: The quality and uniformity of the CO2 ensures stability in color formulation and repeatability. This does mean it is easier to match colors in different manufacturing locations
In cases of yarn dyeing, it can be a complete water free process granting even more geographical freedom.
WT: Any last thoughts?
Vinson: Pressure is growing from the market as is consumer awareness. The larger retailers are also contributing to an environment where sustainability is sought through innovation.
More importantly big brands are seriously looking at meeting sefl-imposed carbon reduction targets by 2030.
Brands are strong drivers for innovative technologies like waterless dyeing with SCF-CO2 and have already incorporated them into their regular supply chain.
Dyecoo is very well positioned to take on this challenge and be part of the solution.
Change is difficult but essential. We must all do our part.