Features

Update 2023/3/15
Space Food




brought to you in part by




The Timmins Balloon Base
Experiments launched in an environment similar to Space
By Suzanne Forcese
"STRATOS, the Canadian Space Agency's stratospheric balloon program, allows Canadian scientists and engineers to launch instruments and science experiments into the stratosphere, an environment similar to space while inspiring and training the next generation of experts in the collection of scientific data to help advance research."-- Audrey Barbier, Canada Space Agency (Communications)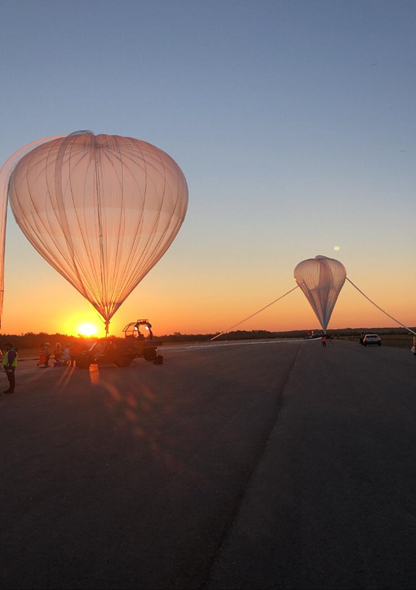 2022-08-18 Stratospheric balloons at sunrise on the Timmins base. Credit: Canadian Space Agency
WT: What happens at the Timmins Balloon Base?
Barbier: The Canadian Space Agency (CSA)'s stratospheric balloon program STRATOS was created in 2011, through the CSA's collaboration with the Centre National d'Études Spatiales (CNES).
The Timmins Balloon Base is where the STRATOS launch. The CSA is currently the sole tenant.
The CSA has welcomed an average of 160 people, including more than 100 Canadian and foreign scientists during recent campaigns which has resulted in a need for expansion.
WT: What is CSA's Stratospheric Balloon Program? What sorts of experiments are being carried out at Timmins? Who are the collaborators? What data is being collected
Barbier: STRATOS provides Canadian academia and industry with an opportunity to test and validate new technologies and perform scientific experiments in a near-space environment while inspiring and training the next generation of experts.
In addition to collaborating with the CNES and the scientists, the CSA interacts with a multitude of stakeholders such as Transport Canada, Nav Canada, the City of Timmins and local businesses/organizations.
Stratospheric balloons carry equipment into the stratosphere to collect critical data on Earth's environment and atmosphere (for example, the concentration of greenhouse gases). Or look outwards into the Universe for astronomy research.
Balloons can also be used to test technology to reduce the risks and costs associated with other types of launch platforms.
Balloons are a platform of choice for scientists and engineers because they allow experiments to be carried out in a short period of time and to obtain results quickly.
WT: The balloons – please tell us about the anatomy of a balloon and what it is capable of. How far can it travel?
Barbier: There are different types of high-altitude balloons, but they have one thing in common, the use of a lighter than air gas (helium). The balloons launched in collaboration with CNES are called Zero-Pressure Balloons.
Aerostats are mainly composed of two parts: the balloon envelope and the flight train.
The balloon part consists of an envelope made of a thin film of polyethylene and a transponder beacon.
The flight chain is made up of parachutes, avionics and communications gondolas as well as the scientific gondola at the bottom.
The size of the aerostat varies according to the size of the envelope and the load to be lifted.
The largest envelope used by CNES allows the transport of 1100 kg of scientific equipment.
They can reach altitudes of up to 42 km.
Aerostats are environmentally friendly as they do not require an engine or fuel and are fully recovered after flight.
WT: What can you tell us about the 2022 STRATOS Campaign?
Barbier: In August 2022, four zero-pressure balloons carrying six Canadian payloads were launched from the Timmins stratospheric balloon base to test new technologies, conduct science experiments, and take atmospheric chemistry measurements.
The four balloons completed more than 51 hours of flights.
In addition, five meteorological balloons were launched with educational payloads on board.
The goal of these five flights was to provide post-secondary students and youth with the unique opportunity to design, build, and test small payloads and perform their own balloon launches.
As part of the launches, the teams were introduced to engineering project processes. They also produced technical and progress reports in different phases.
WT: Is there a 2re023 campaign being planned?
Barbier. Yes. A 2023 campaign, with similar parameters to 2022 in terms of the number of flights, is in the process of being planned. The mission analysis is ongoing.
WT: How do the experiments and their results at the Timmins Balloon Base influence Space missions?
Barbier: One example of application is the selection of two instruments, which have flown and proven themselves under the STRATOS program, to be part of the Canadian HAWC mission (High-altitude Aerosols, Water vapour and Clouds).
HAWC includes three innovative Canadian instruments and a Canadian satellite that will be part of the international NASA-led Atmospheric Observing System (AOS) with an expected launch date in 2031.
WT: How do these Near Space activities also influence activities on Earth?
Barbier: Data collected will improve our ability to predict near-term weather events, long-term climatic conditions and air quality.