Features

Update 2023/2/5
Space Food




brought to you in part by




Growing vegetables, fruit, and mushrooms without soil, sunlight, or adding fresh water
University of Guelph's Canada GOOSE (Growth Options for Outer Space Environments) Advances To Semi-Finals in the Deep Space Food Challenge
By Suzanne Forcese
"The challenges with food production in Space are the same as those you'll face in a snowbank in Yellowknife or a desert in Kuwait." - Dr. Mike Dixon Director of the Controlled Environment Systems Research Facility (CESRF)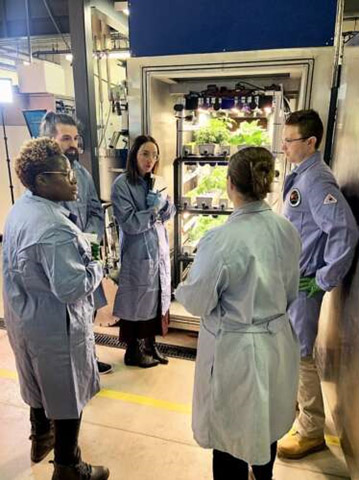 Members of the Canadian Space Agency (left) speak with University of Guelph GOOSE team members, student Rosemary Brockett and Jared Stoochnoff (post-doctoral researcher) in front of the GOOSE chamber. The food-growing system is a self-contained, plant-growth chamber that uses advanced environmental control technology.
Interview with Dr. Mike Dixon and Dr. Jared Stoochnoff
WT: The Canadian Space Agency Deep Space Food Challenge statement issued by Impact Canada invites Canadian innovators to "create novel food production technology or systems that require minimal inputs and maximize safe, nutritious, and palatable food for long-duration space missions which have potential to benefit people on Earth."
Dr. Dixon and Dr. Stoochnoff, you are leading a team from the School of Environmental Science that has responded to the challenge and now you have advanced to the semi-finals. Congratulations!
Dr. Dixon, you have been involved in research on this topic for several years.
Dixon: I founded the Controlled Environment Systems Research Facility (CESRF) in 1995, so this is the culmination of nearly thirty years of research.
WT: You have also been involved in other Space projects. Tell us more.
Dixon: In 2021 our team in the Controlled Environment Systems Research Facility (CESRF) with support from Scotch whiskey business Chivas Brothers worked together with Aegis Aerospace Innovative Solutions.
For Chivas it was a promotional opportunity, for me it was very interesting research.
Chivas donated several thousand proprietary barley seeds that were sent in a SpaceX rocket to the ISS, some of which are being exposed to zero gravity, cosmic radiation and wild 200-degree temperature swings as the ISS orbits Earth's shadow and back again into the intense heat of the sun. A larger volume of the seeds will remain on board the ISS and may eventually be the source of seed multiplying the quantity of seed with space heritage.
When the seeds return to Earth, they will be germinated at the CESRF and closely monitored as they are grown into a crop. Seeds from that crop will be sent back to The Glenlivet where they will be malted and distilled.
Stoochnoff: The barley seed project builds on a similar ongoing project developed at U of G that has continued for 20 years, called Tomatosphere. In that project, tomato seeds are sent to space almost every year for several months at a time and then distributed to schools across Canada and the U.S. so schoolchildren can learn how space travel affects the germination of the seeds and the tomato plants that grow from them.
Most recently, First, the Seed Foundation was able to place a small payload of Heinz tomato seeds outside the ISS onto the MSC platform for six months.
We were stunned to learn that those seeds were able to germinate when they came back to Earth. They remained viable – which is remarkable, given the conditions on the platform. They underwent an extreme temperature gradient that most germplasms wouldn't be expected to survive.
Dixon: The GOOSE project builds on nearly three decades of research at the U of G that have made it among the world leaders in controlled environment agricultural technology.
WT: What expertise are you drawing on to move forward?
Dixon: Technology transfer and commercialization opportunities on Earth drive this research along, but it's pulled by the technical challenge of going to the Moon and trying to grow a plant. I'm very excited about it. Previous research combined with legacy technology and the technology the GOOSE team has been developing gives the team an advantage.
WT: The University of Guelph entry is "Canada GOOSE". Please tell us about the entry and as much as you are free to divulge about the "growth chambers" technology.
Stoochnoff: It's a chamber with shelves that grows about 50 varieties of fruits, vegetables, herbs, and mushrooms. The plants thrive on a hydroponic system that delivers nutrients to the plants.
The growing medium was designed by our team.
The temperature, carbon dioxide and circulation within the growing chamber are carefully controlled using a low-wattage system.
An app developed by our research team allows for remote control of the environment.
WT: Plants in nature require sunlight yet you are growing fruits and vegetables without sunlight.
Stoochnoff: Plants do grow without sunlight. The system features calibrated LED light systems that mimic the sun and can match the needs of each crop. LEDs are used to grow plants because it's easy to control wavelengths – or how much energy—to emit. LEDs allow us to pick and choose which elements of the solar spectrum will be most effective for plant growth. LEDs give us the ability to improve the effectiveness of the sun.
Interestingly, the plants respond in shape, size, colour, and photosynthetic efficiency. Even the taste can be affected by the way we mix and match the light spectrums.
WT: Please elaborate more on the hydroponic system that may not require additional water.
Dixon: The plants thrive on a unique hydroponic system, developed by one of our students. The system starts with a certain amount of water and is recycled using a disinfectant so there is no toxic residue. Also, water is recovered by our HVAC system when certain plants are dehydrated as well as in the process of transpiration.
WT: Part of the challenge is providing food for astronauts on a three-year mission with no resupply. Is this within the realm of possibility for your team?
Dixon: Astronauts are now being referred to as "mission specialists". We would recommend a horticultural mission specialist for our chamber who would only be required to react with the system for 3 or 4 hours per week. All environmental conditions are maintained autonomously. The system would sound an alarm if there were an issue to be resolved.
It's a very intelligent system that can yield as much as 150 kilograms of food a year.
Basically, it's a vegetarian diet with high nutrient density. We are growing plant proteins such as soybeans to meet dietary nutritional requirements.
WT: What's next in the challenge process?
Stoochnoff: Phase 1 of the Challenge was the Design Report. Phase 2, the Kitchen Demonstration where we were required to build a food production technology prototype.
Now we move on to building a full-scale food production technology.
Dixon: Right now our chamber is about 8 tons. We will have to bring that to the size of a kitchen fridge moving forward.
Everyone on the team is working at a different specialty.
WT: How is this Challenge also providing food insights and sustainability on Earth?
Dixon: This is a technology that could be used anywhere on Earth – even your own kitchen as we work to make it as simple as possible.
It's a miserable climate on the Moon and Mars. If we can make the technology work in Space, we can transfer it to remote terrestrial landscapes such as Canada's North or a parched desert.