Features

Update 2023/1/27
Space




brought to you in part by




A Precision-Automated Plant Growth Environment
Ontario start-up, PeaPod Technologies Inc advances to the DSFC semi-finals with a cloud-connected space food production system
Suzanne Forcese
PeaPod can precisely replicate climates for optimal growing conditions and collect plant growth data during the growing cycle.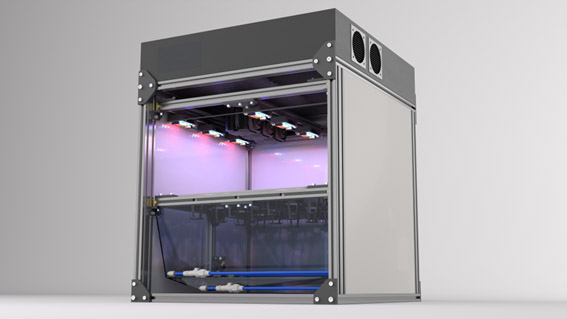 PeaPod integrates with CloudPonics for remote configuration and monitoring, thus creating the ultimate tool
for citizen-science agricultural research and long-term Space missions
Interview with Jayden Lefebvre CEO and Founder of PeaPod Technologies
WT: Congratulations on advancing to the semi-finals in the Deep Space Food Challenge!
Please introduce yourself and your vision to our viewers.
Lefebvre: In 2019 I built 2 prototype plant growth environments for an AP Research project in Grade 12 while studying at Trinity College School in Port Hope, Ontario.
My goal at that time was to design and test a prototype of a controlled environment for Wasabi plant cultivation.
These prototypes were the basis for the Peapod Project.
I went on to the University of Toronto to study computer engineering.
I am passionate about controlled-environment agriculture and open source.
WT: What has this Challenge meant for you?
Lefebvre: This has been and continues to be the most fulfilling project I've ever undertaken. Not only has it allowed me to further develop my engineering design and fabrication skills, but organizing and running a team of engineers has encouraged me to fine-tune both my leadership and project management abilities.
In addition, by making the project's design files and documentation totally open source, I uphold that the right to grow food shall not be monopolized.
This cements my vision of "innovation for the good of humanity".
WT: PeaPod Technologies Inc. is a start-up – that you founded at the age of 19. Please tell us about your company.
Lefebvre: PeaPod Technologies Inc. was established in August 2021, and focused on developing open-source Agritech tools from the ground up.
I brought two of my friends –also undergrads – into the company.
We're developing sustainable and innovative agricultural technologies for research and food production.
Our current focus is Project PeaPod, our submission to the DSFC.
Since its inception, this project has largely been a one-man operation. Probably 90% of the engineering, product design, prototyping, and documentation submitted to the CSA has been my work.
This project was born of my passions. Faced with the resulting time commitment, I made the decision to drop out of U of T Engineering after my first year to commit to the venture.
After receiving notice from the DSFC of our win in Phase 1, my co-contributors (Navin Vanderwert and Jonas Marshall) assisted with documentation, high-level brainstorming, and video creation for the initial pitch.
WT: Please describe the Peapod Technology with reference to water use, energy, CloudPonics etc.
Lefebvre: Like other entrants in the Challenge ours is a greenhouse system. The PeaPod applies water and nutrients directly to the plant's roots.
We're focusing on fresh foods and lots of variety.
PeaPod can precisely replicate climates for optimal growing conditions and can collect plant growth data during the growing cycle. This data is then used to further optimize climate parameters so food grown in PeaPods will taste better over time.
Since a picture is worth a thousand words, your viewers can see how this precision-automated plant growth environment – and water use works here.
WT: How has the Challenge re-invented your vision?
Lefebvre: My original goal in Grade 12 (3 years ago) has evolved into designing a fully open-source controlled environment plant research tool, optimized for precision, ease of use, and adaptability to a diverse set of plant species and experimental requirements.
The best part was that the requirements set for this idea are nearly identical to that of a space food production system.
The DSFC provided us with the ideal "design incubator" for this vision.
Where better to validate a prototype than the high-stakes environment of space travel? And where better to bring those ideas back to Earth and food sustainability?