Features

Update 2023/1/31
Renewables



World's First Nature Intelligence Platform
Powered By Environmental DNA
Uplink Top Innovator NatureMetrics analyzes eDNA in water, sediments
and insects to deliver decision-ready data
Suzanne Forcese
"Biodiversity must now be central to business strategy or the systems on which they are built will simply fail. We're giving businesses the tools to achieve this in the most robust and scalable way possible. With so much momentum behind corporate accountability on biodiversity impact, it is vital that words turn into real actions that drive measurable outcomes for nature." - Kat Bruce, Founder NatureMetrics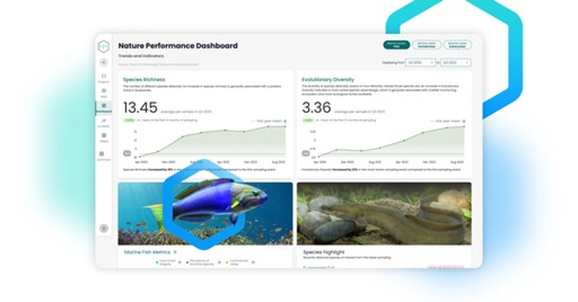 eDNA is the tool for detecting and monitoring species by providing data on thousands of species at once in the analysis of DNA traces from easy-to-collect water or soil samples. NatureMetrics has been generating data globally since 2016 feeding into use cases ranging from large-scale conservation initiatives to environmental impact assessments and regenerative projects
NatureMetrics recently announced the official launch of its Nature Intelligence Platform, simplifying how business can report species and ecosystem impacts required in new nature reporting requirements, such as the Taskforce for Nature-related Financial Disclosures (TNFD), Corporate Sustainability Reporting Directive (CSRD) and Science- based Targets for Nature (SBTN).
WATERTODAY learned more from Krystle Robson, Offshore Energy Expert at Nature Metrics
WT: Recently NatureMetrics was recognized as an Uplink Top Innovator.
Please give us an overview of your UK-based global company.
Robson: NatureMetrics is a global nature intelligence company on a mission to revolutionize how organizations understand and interact with nature. We empower organizations worldwide to make informed decisions for nature, converting complexities of nature into simple insights through our end-to-end biodiversity reporting solution and nature strategy implementation guidance
NatureMetrics is powered by eDNA technology, a cutting-edge method to measure biodiversity using traces of DNA left behind in any given environment of living things providing a picture of a site's biodiversity.
We transform this species data at a site-level into meaningful insights to enable organizations to manage and monitor nature and make the best decisions for their business and the planet.
WT: Tell us about the founders.
Robson: NatureMetrics was founded in 2014 by a group of scientists including Dr. Kat Bruce who were determined to connect environment managers with the data they need to monitor biodiversity.
The idea of Nature Metrics and its eDNA monitoring technology was first conceived when Dr. Bruce was studying for her PhD in Molecular Biology at the University of East Anglia in 2012.
After using DNA in habitat restoration, deploying insect meta barcoding to compare different restoration processes in heathland she proved how reliable and verifiable the technology is.
Replicating existing research, using eDNA metrics the results were achieved in 6 weeks instead of a year with the traditional methodology.
Seeing the scale of the data sets, Dr. Bruce opened her first lab in 2016 to offer her actionable insights to those who could benefit the most.
WT: And what have been the results?
Robson: NatureMetrics has now worked with over 500 customers worldwide helping them understand their impact and dependency on nature. These span a wide range of sectors from infrastructure to food and farming; financial services to onshore and offshore extractives; and fisheries to conservation and EResearch. Our clients include governments businesses and NGOs.
WT: How has the concept of Nature Based Solutions evolved to mainstream? What leaps are you witnessing in this new perception? What does this mean for NatureMetrics?
Robson: Pressure is mounting from all directions for organizations to consider their approach to nature. Increased awareness around biodiversity loss, externalities, material risks and dependencies has increased expectations from shareholders and customers for companies to put processes in place to understand, reduce and disclose their nature impacts.
This has been reflected in various frameworks launched in recent years including Global Biodiversity Framework (GBF), Science Based Targets Networks (SBTN), and the recently announced Taskforce on Nature-related Financial Disclosures (TNFD).
The common goal of these frameworks is to preserve biodiversity and establish nature positive practices necessary for a sustainable future. As these frameworks are adopted, we can expect them to become enshrined regulations which organizations will need to be prepared for. We've seen an unprecedented increase in corporate clients wishing to get ahead of new nature reporting obligations.
Businesses are at a crossroads where they need to report on biodiversity because of changing expectations when it comes to their impact on the world and climate but are limited by resources like time cost and expertise. Techniques have emerged in recent years that make the collection of biodiversity data more efficient, objective, replicable, and scalable such as the collection and analysis of eDNA that underpins our work at NatureMetrics.
WT: What is the importance of metrics? What is the connection between biodiversity and climate? The tools to measure them?
What did you understand was required as a giant step forward to realizing solutions to climate/biodiversity problems?
Robson: The earth's biodiversity is intrinsically linked to its climate, acting as "our strongest natural defence against climate change" according to the UN. But biodiversity is on the decline.
In September 2023 it was reported that 1 in 6 UK species are at risk of extinction. It is vital that we are armed with the tools to halt and reverse biodiversity loss and meet the targets set out by frameworks like the Global Biodiversity Framework.
That's where metrics come in--enabling organizations and decision makers to understand their impact on nature through simple accessible data.
Compared to working out a carbon footprint -- a relatively easy task as carbon is just one molecule-- measuring biodiversity is profoundly more complex as it encapsulates all living things on Earth.
NatureMetrics technology tackles this by bringing together a wide array of biodiversity markers and data including eDNA into one monitoring platform converting the complexities of nature into simple insights that can inform boardroom decisions.
WT: What is Environmental DNA? How are you able to capture it in the world's water?
Robson: As species move and interact within their environment, they leave traces of DNA. By collecting water samples in each area and sequencing the DNA contained within the samples, scientists can obtain an accurate picture of the biodiversity within their surveyed location, offering a comprehensive view of the entire tree of life and indicating overall biodiversity health.
Water samples can be collected by non-experts before being sent to our lab for analysis. These insights can then be used to inform important decisions from planning through to ongoing mitigation of nature impacts
WT: How does the technology work
Robson: eDNA is easy to deploy in the field requiring less expertise on the ground and is less invasive.
Organizations can take samples on a regular basis to build an accurate picture of changes in an ecosystem. This data is then fed into our nature performance monitoring platform providing a simple to understand view of the health of biodiversity which can be easily communicated to multiple stakeholders.
WT: You mentioned that you have worked with hundreds of customers globally. What can you tell us about those customers that work with water?
Robson: We are currently working on hundreds of projects globally. Many of those projects are specifically to monitor the biodiversity of bodies of water.
For example, WWF Peru approached us to help survey 6 aquatic species including Amazon manatees, Pink River dolphins and migratory catfish along the Maranon River in the Northern Peruvian Amazon as part of a Healthy Rivers Program.
Traditional methods would have meant conducting separate surveys for each species but with eDNA they could all be surveyed together with the rest of the vertebrate fauna – saving time and money.
We delivered a comprehensive set of data to WWF which along with the key species covered a vast array of aquatic and non-aquatic species including 375 fish 155 mammals and 65 birds. Among these were endangered species like jaguars and Giant River otters and hundreds of fish species that are hugely important for the livelihood of local communities but are impossible to survey in any other way.

Over in the UK we worked with a leading renewable energy consultancy and service provider, Natural Power and EDF Renewables, to conduct a groundbreaking research project to validate offshore fish eDNA survey methods – the first of its kind to trial the use of eDNA to improve survey methods for offshore wind farm environmental impact assessments.
The method we helped to develop through this research should help reduce the cost of offshore wind developments, reduce overall cost of energy production, while also minimizing the environmental impact, and therefore helping to meet the UKs 2050 net-zero impact.
WT: What is BioAtlas?
Robson: BioAtlas is a pioneering initiative led by the International Union for Conservation of Nature (IUCN) and NatureMetrics to create a global atlas of the world's freshwater wildlife using eDNA technology.
It aims to provide a comprehensive picture of biodiversity globally, mobilizing stakeholders and citizen scientists to fill critical knowledge gaps to support conservation efforts and inform global policy to halt and reverse biodiversity loss.
To maximize its impact the data base will be freely available to non-commercial users and will be designed to interface with the IUCN Red List of threatened species and other national and global environmental databases including the Global Biodiversity Information Facility (GBIF).
WT: What is the vision moving forward?
Robson: We want to become a one-stop-shop for all nature intelligence requirements and enable customers to build a complete picture of biodiversity at scale. Soon we will start to incorporate other data sets into the platform like earth observation which will help to provide an even richer view of any given habitat and enable more informed decisions for nature conservation.