Features

Update 2022/6/8
Plastics


Xampla creates edible films as an alternative to single-use plastic



By Suzanne Forcese

Interview with Simon Hombersley, CEO Xampla

"The only solution to plastic pollution is a plastic that doesn't pollute. Unlike plastic, Xampla's soluble and edible film is 100% plant-based and biodegrades rapidly in marine and freshwater environments into small proteins and amino acids that are safe for the natural environment and for wildlife to consume."
Simon Hombersley, CEO, Xampla

Xampla, a spin-out from the University of Cambridge has created a next-generation plant protein material for commercial use that performs like synthetic polymers but decomposes naturally and fully without harming the environment and us.

Transitioning from traditional plastics through all industry sectors to a solution is an objective that can be met.

WATERTODAY learned more about the Supramolecular Engineered Protein that is poised to be that non-synthetic solution from Xampla's CEO, Simon Hombersley.

Plant protein material inspired by the spider

Xampla's mission is to replace everyday single-use plastics like sachets and flexible packaging films, and the less obvious, such as microplastics within liquids and lotions.

WT: Please tell us about the Xampla Team – How did the university spin-out evolve? What were the motivating factors? The vision?

Hombersley: Xampla's core technology is the result of over 15 years of research at the University of Cambridge. The team, at the time, were specializing in research into the fundamental properties of proteins and conducting research specifically into plant protein.

Inspired by how a spider makes silk, a protein material, we identified that plant protein could be manipulated naturally to create a strong, and totally natural, biodegradable material.

It became clear that this breakthrough technology had the potential to be developed as a natural alternative to the most commonly used single-plastic packaging on the market.

Over the past two years, Xampla has been bringing its technology to market and has grown from its first hire in 2020 to 30 people. Our team is made up of scientific researchers from across the world and industry experts with experience from the leading global FMCG (fast-moving consumer goods) companies.

As Xampla continues to develop its innovations to bring new products to market, we continue to scout for the best industry talent to join our team. We have multiple roles in the pipeline and are always prospectively looking for new faces to join us.

WT: Why have you chosen the name 'Xampla'?

Hombersley: The name 'Xampla' is a nod both to our mission to eliminate plastic pollution and our scientific origins. The 'Pla' represents our focus on tackling the plastic pollution crisis and 'X' identifies our unique scientific background.

WT: Tell us about the product that the Team has created. What was the inspiration?

Hombersley: Xampla's core mission is to eliminate the common single-use plastics you see all around, such as sachets and flexible packaging, as well as hidden microplastics within liquids and lotions.

Our team is driven by the desire to develop truly natural alternatives to polluting single-use plastics, which continue to damage our natural environment as well as affect the health of our planet and people.

As a result of our ground-breaking research, we have successfully created the world's first plant protein material for commercial use.

This next-generation material performs just like plastic, but decomposes naturally and fully at the end of life, without harming the environment. Xampla's material can be used to replace everyday single-use plastics, as well as to develop new innovative product formats. One such example is the edible stock cube wrapper we created with the meal kit retailer Gousto, which could be used in recipes and consumed, packaging and all.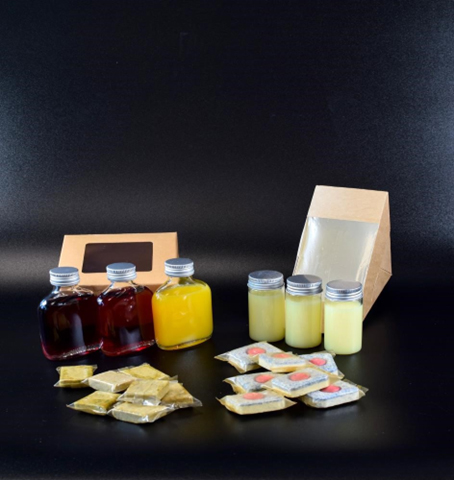 A few applications for Xampla's world-first plant-protein polymer. Photo Courtesy Xampla
WT: Please describe the concept of self-assembly.
Hombersley: All protein self-assembles naturally. Proteins are strings of amino acids that naturally tangle themselves together. Our process untangles the strings and precisely controls their natural self-assembly into new forms. This creates strong materials which, unlike some plastic alternatives on the market, have no chemical crosslinking.
Professor Tuomas Knowles, Xampla's academic founder describes the science here(vimeo.com/465081497).
WT: Why is your product the solution to the plastic pollution crisis?
Hombersley: Natural polymer materials are the only genuinely sustainable solution we have to fight the plastic pollution crisis. The unfortunate reality is that recycling in isolation does not work. After decades of education on the need for us to recycle, only 9% of the plastic produced on this planet has ever been recycled.
It is promoted as a silver bullet for the problem by those who know it is not, from the plastics and fossil fuel industries. It is now painfully clear that we cannot continue business as usual and expect the type of meaningful exchange we need to turn the tide on plastic.
Xampla's natural polymer uses plant protein to create materials that are not chemically crosslinked and have a perfect end of life. For materials such as flexible films, which are newer and impossible to recycle and most often end up in the natural environment, the only solution we have is to replace these synthetic films with a natural alternative.
In single-use plastics and microplastics, where recycling simply isn't an option, the only solution to plastic pollution is plastic that doesn't pollute.
WT: You have been the recipient of a number of prestigious awards. What has this meant for you?
Hombersley: In this year alone, Xampla has been awarded the Best New Business Award at the Food Innovation Awards, and announced as a finalist for two other categories: Best Technology Innovation and Best Ingredient Innovation. We are also shortlisted for another industry award, Business Leader's Go: Tech Awards for Sustainable Tech Business Award, in recognition of our breakthrough technology.
We are incredibly proud to be announced as a finalist for the prestigious Tom Ford Plastic Innovation Prize, which recognizes companies creating truly sustainable alternatives to single-use plastics.
Each year, humans are estimated to use over 300 billion single-use plastic polybags and as prize finalists, our expert team will be exploring how Xampla's natural material can offer a solution to this problem.
The applications for our world-first plant protein polymer have the potential to replace plastic across a range of industries including in food and beverages, the home cleaning products industry and now in technology and fashion.
These awards not only help to raise Xampla's profile within the industry, they also open the door for us to develop new product formats and to work with global household names.
WT: What are your products?
Hombersley: Xampla's core products are soluble films, fragrance microcapsules, nutrient microcapsules and edible films.
Xampla's soluble films are made from pea protein and offer the same benefits as soluble plastics, without the environmental impact.
Dishwasher tablets, for example, are traditionally wrapped in soluble plastic. After use, the plastic wrapper disintegrates in water but doesn't necessarily disappear, meaning large volumes of 'synthetic' materials have the potential to reach our environment.
Unlike plastic, Xampla's soluble and edible film is 100% plant-based and biodegrades rapidly in marine and freshwater environments into small proteins and amino acids that are safe for the natural environment and for wildlife to consume.
Xampla has also created the world's first edible films made from pea protein as an alternative to single-use plastic sachets that commonly pollute our natural environment. This technology presents a unique opportunity for consumers to actually eat their packaging and is something we brought to market for the first time with Gousto.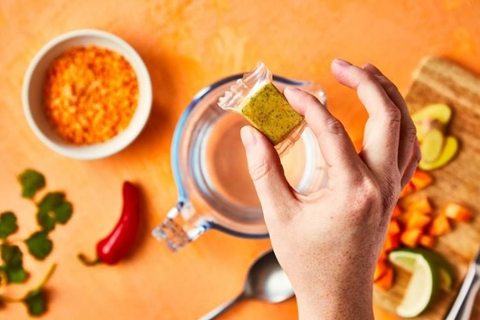 The edible packaging is made by engineering and drying pea protein into sheets that have the same benefits as plastic, being able to preserve flavour and shelf-life without package waste. The material is vegan a gluten-free. Image source: Gousto
Our fragrance microcapsules replace the plastics often found in laundry and home care products. Currently, 70% of fabric conditioners that contain fragrance microcapsules have the potential to release harmful microplastics into the environment.
Xampla has developed an innovative plant-based fragrance microcapsule solution that forms a shell around droplets of fragrance, offering the same performance benefits consumers expect, whilst being perfectly safe for the environment at the end of life.
Our final launch application is nutrient microcapsules. As consumers are becoming increasingly health-conscious and aware of the importance of key vitamins, brands are looking for new ways to add extra vitamins to their products.
However, vitamins such as Vitamin D, are often damaged by light or pasteurization meaning brands either have to decide to add extra vitamins or none at all.
Xampla's innovation to solve this problem is a plant-based microcapsule technology that wraps a microscopic droplet of vitamin oil in pea protein so that the droplets are protected within the liquid itself.
This fortification technology presents a significant opportunity for consumers to increase their vitamin intake from their everyday products whilst being 100% plant-based and 100% vegan.
Xampla works directly with big brands to innovate product formats using our core technology that are unique to their individual requirements and demands. We look forward to announcing further partnerships over the next 12 months.
WT: Moving forward... What is next?
Hombersley: The Xampla solution can already be found in kitchen cupboards across the UK. Our mission moving forward is to continue to develop our technology and to partner with global FMCG brands to give more consumers the opportunity to try our material.
We are continuing to partner with brands that are looking for solutions to replace single-use plastic and are focused on a rapid scale up to meet the requirements of multi-national companies to provide alternatives to plastic on a bigger scale.
Through 2022 we are scaling our operations even further.
WT: Before we call it a wrap...is there anything else you would like WT viewers to think about?
Hombersley: Plastic has a huge range of uses which is why it became such a commonly used material in the second half of the 20th century and its use today is still growing. It protects food products in transit, cuts down on food waste and keeps the fragrance fresh inside household cleaning products.
The problem is that plastic is too effective. It is indestructible. It is a material that is necessary for medical applications as these are things that require such robust and long-term solutions. However, food packaging and other single-use applications have never required the same longevity.
Thinking ahead to 2040...
Will the consumers of the future put up with plastic any longer as the effects of pollution become increasingly difficult to ignore? We think they won't. This is why next-generation technology, such as Xampla will become increasingly crucial in turning off the plastic tap.