Features

Update 2021/7/22
WT Women - Living Seawalls


Living Seawalls: Blending Ecological Concepts and Engineering to Benefit Marine Life and Clean Oceans



By Suzanne Forcese



WT Interview with Marine Biologist, Melanie Bishop

"I have increasingly built my career around innovating solutions that allow humans and Nature to grow alongside each other. You can't stop people from building in the oceans, but you can empower them to design for humans and Nature. Living Seawalls does just that."
Marine Biologist Melanie Bishop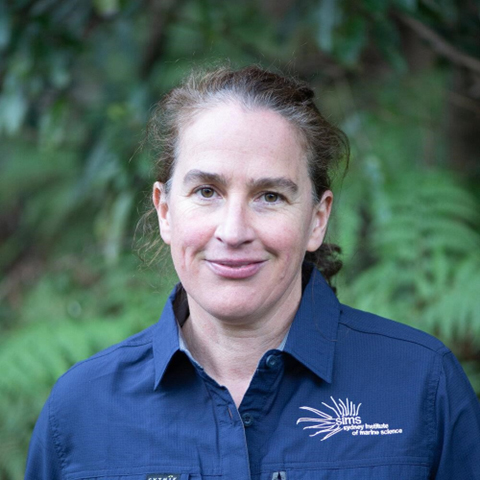 Co-Leader of Living Seawalls, Professor Melanie Bishop (Macquarie University, Australia) heads a nationally and internationally respected team of 15 researchers from seven countries. "I want to ensure that my children and their children and grandchildren are able to experience the joy and beauty of the ocean as I did."
WT: What are "Living Seawalls"?
Bishop: Living Seawalls address the growing issue of biodiversity loss due to construction in our oceans. Built structures tend to support reduced biodiversity as compared to the natural habitats they replace due to their smooth and featureless surfaces. They provide little space for marine life to attach and nowhere for species to hide from predators and environmental stressors. Living Seawalls revive marine life on built structures by reintroducing the three-dimensional surface geometries needed to provide homes to species.
The key design criteria for Living Seawalls were that they were customizable and scalable. We have achieved this through a modular design whereby habitat panels, of varying designs, are fitted in scalable mosaics onto built structures.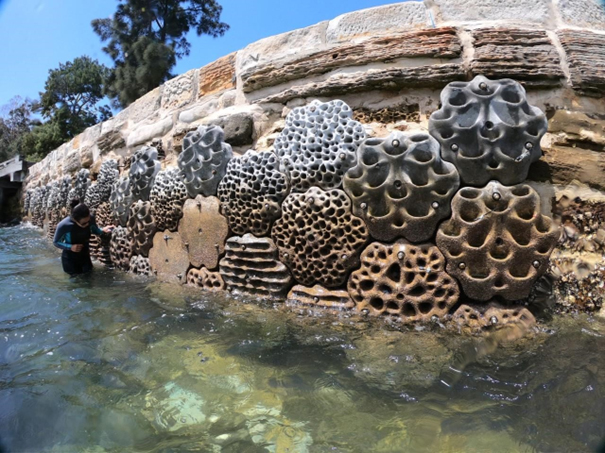 Living Seawall panels can be fitted to new or existing structures. Panels can sit 10 cm off the surface of existing walls removing the need to clear existing growth and tripling the surface area for the growth of marine life. The panels come in ten different designs that mimic the habitat features of nature (e.g., Rock pools, crevices), and each of which supports different marine seaweeds and animals. The panels can be mixed and matched according to environmental goals and local conditions can be fitted to structures of varying sizes and can be fabricated from upcycled materials. - Photo Alex Goad

WT: What inspired you to work on this project?

Bishop: I'm a marine biologist with close to 20 years of experience researching how coastal ecosystems operate and respond to change.

I started my career by documenting human impacts on the marine environment but quickly realized that what we really needed was solutions. To engage people to give them hope.

WT: Please tell us about the Living Seawalls Team and the motivation that brought you together.

Bishop: Living Seawalls is an interdisciplinary team, coupling the ecological know-how of marine biologists at the Sydney Institute of Marine Sciences with cutting-edge industrial design from Reef Design Lab.

Our team of ecologists first worked with Reef Design Lab founder Alex Goad, on a precursor to Living Seawalls – the World Harbour Project. Alex designed small experimental habitat panels for us which were experimentally tested at 27 sites around the world.

Alex and his team, share the vision of us ecologists for sustainable design, where humans and nature are not at odds. We are united in our passion for the ocean and our desire to protect and restore it for future generations

WT: How are you revolutionizing the way we think about oceans?

Bishop: Our goal was to develop a solution for returning marine life to the tens of thousands of kilometers of concrete coastline around the world.

While there was a substantial evidence base from small-scale ecological experiments that suggested adding complex geometries to the surfaces of marine constructions benefits biodiversity, very few groups had made the transition from experiment to scalable solutions. Our team is the first in Australia and one of the first few globally to do so. In late 2018 we installed the first Living Seawalls under the Sydney Harbour Bridge, and since then we have established 20 Living Seawalls globally. We hope that through Living Seawalls we will grow awareness that Nature and humans need not be at odds with one another and through smart design, we can build for both simultaneously

WT: Please comment on the scientific research for this project.

Bishop: A critical component of our program is that it is informed and driven by science. Most of our team are university-based research scientists. We collect the ecological evidence base that our solution works and use these data to continuously improve and refine our solution.

In Sydney Harbour, we have found that Living Seawalls support as many as 115 species of seaweeds and invertebrates as well as a whole host of fish that use the Living Seawalls for shelter and food. The species benefitting from Living Seawalls include oysters, and mussels, which help to clean the water, as well as kelp which provides habitat to fish and takes up and stores carbon. After only 2 years, up to three times more species were observed on Living Seawalls panels than on flat, control, surfaces of similar age.

Our monitoring and evaluation program has demonstrated the success of Living Seawalls panels in enhancing the biodiversity of algae, fish and invertebrates on seawalls, across a range of environmental conditions. The data collected from post-installation monitoring has been used to determine which configurations of panel designs are most effective at bolstering biodiversity, under different environmental conditions.

We are now assessing how Living Seawalls bolster key ecosystem functions, such as improving water quality, fisheries production and carbon sequestration.

However, the benefits of Living Seawalls extend far beyond biodiversity to improve public amenity and connection with blue spaces.

WT: Recently Living Seawalls has been recognized with some prestigious awards. What has this meant to you and your ongoing research and pilot projects?

Bishop: The past year has been huge for Living Seawalls; we were finalists for Prince

William's 2021 Earthshot Prize; won the Banksia Environmental Foundation's Biodiversity Award, and

were selected by the World Economic Forum as Top Innovator in their UpLink BiodverCities Challenge.

This recognition has catapulted us onto the global stage, not only generating interest in our solution but awareness of the issue of marine construction and the need for 'eco'-engineering more generally. Through the Earthshot Prize, we have been able to expand our solution throughout the UK and to the UAE. Working with DP World, we are now developing solutions for port infrastructure.

WT: Future plans?

Bishop: Living Seawalls is among a handful of groups around the world that is greening marine infrastructure at scale, and is one of the few solutions that is not only scalable but also customizable. Following initial installations in Sydney Harbour, Living Seawalls has expanded across the east coast of Australia and internationally to Singapore, Gibraltar, and Wales. Our goal is to establish Living Seawalls on every continent on Earth to demonstrate the possibilities of building for Nature.

The construction of new marine structures is inevitable if we are to provide energy, food, water, and telecommunications to the growing human population. In some instances, nature-based solutions (e.g., coral reefs for coastal protection) may provide an alternative to traditional engineering approaches, while simultaneously reviving our oceans and sequestering carbon. However, where Nature-based solutions are not viable, 'eco'-engineering approaches such as Living Seawalls provide an alternative mechanism for ensuring that marine life, and the important services it provides to humanity, can persist.

WT: Please tell us about your Outreach and Education. Why is this an important aspect of your work?

Bishop: The success of Living Seawalls is dependent on support from community groups, and facilitative policy and management frameworks. We have built these through an extensive outreach program, generating public awareness and stewardship of blue space and through our development of frameworks for implementation of 'eco'-engineering solutions.

Since 2018, we have given over 30 seminars, panel discussions, and workshops. Living Seawall panels have been displayed at the Australian National Museum and MOD Adelaide and internationally at the Design Museum London and Cooper Hewitt Design Museum New York.

The project has provided internship opportunities to 50 young scientists and designers\\ and trained 6 research assistants from Australia, South Africa and the Philippines

Our outreach activities have stimulated grass-roots initiatives whereby community and student groups fundraise for and take on the stewardship of Living Seawalls. We have seen first-hand how engaging with policymakers and managers can lead to change.

WT: Any last thoughts?

Bishop: Already marine construction is modifying a greater area of seafloor than is occupied by the world's mangrove forests and seagrass beds. A further 70% growth in marine structures is predicted over the next 10 years. Though marine construction is a growing source of biodiversity loss, it can also be the solution through eco-friendly design. This is increasingly being recognized by governments and companies around the world.

For example, in the UK there is new legislation that requires a net biodiversity increase of 10% for all new developments. Orsted has committed to net biodiversity positive for all new renewable energy projects it commissions from 2030.

I am excited by the innovations these commitments will drive. We are at the very tip of an ecopreneur revolution!

suzanne.f@watertoday.ca